Gym flooring solutions vary, and the right choice creates an environment that is suitable for serious workouts. An intelligent and practical design should be the goal in every gym. One flooring type that offers both is the artificial turf – considered to be the best flooring for gym workouts.
Artificial turf is an incredibly versatile flooring option. Similar to real grass, artificial turf offers a cushioned surface, one upon which a wide range of activities can be performed. Unlike grass, artificial turf does not require costly maintenance or artificial lighting to grow.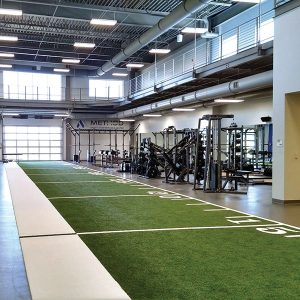 Today's workouts are more sophisticated, and gyms have correspondingly evolved. No longer do gym users simply lift weights or run on a treadmill. Nowadays, exercise routines are comprised of high intensity conditioning drills, cross fit, sled work, and competitive sports training, among other activities.
Artificial turf entered the sports arena when it was installed on football fields. This first known use of artificial turf was in the Astrodome in Houston, Texas, in 1966. The manufacturing processes of the artificial turf has evolved since then and this gym flooring option increased in popularity.
Due to the fact that artificial turf enhances both sports performance and athletic safety, this flooring material was soon in demand. All levels of athletic playing fields, from elementary schools to the National Football League, embraced the modern-day artificial turf.
Artificial turf quickly found its way into a large number of gyms, too. Athletes have the freedom to perform sudden moves on the dense artificial turf flooring without risking injury. Quick turns, switching directions, and performing complex maneuvers can be safely done.
Artificial turf is a safer alternative to carpets that sustain wear, concrete floors that become slippery, and rubber mats that eventually become unkempt. Plus, this flooring option is ideal for gyms with constant foot traffic, heavy equipment, and areas in which high-intensity workouts are performed.
What qualities make artificial turf desirable?
1. Durability
The advantages of installing artificial turf in a workout space are numerous. One important aspect to consider is the durability of this material. Quality manufacturing leads to a long-lasting artificial turf for the gym floor. Artificial turf has the potential to last for years.
Durability is key in any gym flooring since it can affect athletic safety. Artificial turf floors do not develop holes or undergo significant wear and tear. As a result, working out on the sturdy athletic turf will consistently and reliably provide a safe experience for athletes.
2. Shock Absorbency
Shock absorbency is another desirable feature of artificial turf flooring. Intense bodyweight workouts can result in falls. Artificial turf naturally absorbs athletes' energy during a tumble, thereby reducing impact injuries. When installed, shock absorbent underlays increase the shock absorbent properties.
Since artificial turf facilitates smooth motion and acceleration, this type of flooring is critical in sports-focused gyms where speed sleds are frequently used. Athletes who train with speed sleds additionally benefit from the free motion offered by artificial turf floors.
3. Hypo-allergenic
Allergies can force athletes to unexpectedly pause during workouts. Artificial turf, being a naturally hypoallergenic material, improves the gym user's experience. Hypoallergenic floors are especially important in gyms where workouts are performed on the floor or close to the floor.
4. Flexibility
The flexibility of artificial turf is another major draw. Depending on a gym's purpose or user's goals, artificial turf can be a temporary or permanent fixture. If used only during summer, for example, the artificial turf can be rolled up and stored away. Alternately, permanent installation is easy.
5. Attractiveness
Being aesthetically pleasing, artificial turf is appealing to gym customers. Offering a polished, clean appearance year-round, artificial turf can entice gym loyalty. Never with a dull or bent grass blade, artificial turf looks good after months or even years of continual use.
6. Easy Maintenance
Workout spaces are notorious for being sweaty and somewhat dirty. A floor upon which artificial turf is installed, however, is easy to clean. Maintenance requires vacuuming to remove dust and dirt and applying a carpet cleaning solution to deodorize and disinfect after workouts.
7. Variety of Options
Gym users have a wide range of artificial turf options. High impact floor exercises, such as pushing or pulling sleds, require soft polyethylene materials. Tough but soft artificial turf rolls prevent injury. Options also include cushioned and non-cushioned versions to protect joints.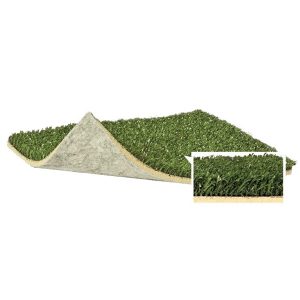 Artificial turf that does not require infill can be installed indoors or outdoors. A foam cushion backing offers optimal shock absorption during workouts. Thermal insulation properties allow the artificial turf to perform even in high traffic areas. When installed outdoors, the flooring is UV stable.
Indoor workout spaces function well with artificial turf that features a low pile height. The pile height is an important consideration, since the wrong product can lead to gym users tripping and falling. Also consider thickness of the turf to ensure that gym surfaces are even throughout the facility.
Modern gym owners seek out artificial turf flooring for its many benefits, which include durability, safety and being an economical choice. When you are ready to install artificial turf, choose DIYRubberFloors. We will take your existing gym floors to a competitive level.
DIYRubberFloors premium artificial turf flooring solutions reduce surface temperatures and are fully recyclable. We are committed to offering environmentally friendly products. Call one of our helpful representatives when you decide that high-quality artificial turf flooring is right for your gym.