The right flooring in an exercise room is key to improving workouts, promoting safety, and protecting the floor underneath. Interlocking rubber tiles or rolls are the most popular and highly recommended flooring options for an exercise room. Here are reasons that make rubber floors a top choice.
What are the key benefits of rubber flooring?
Offers Long-Lasting Durability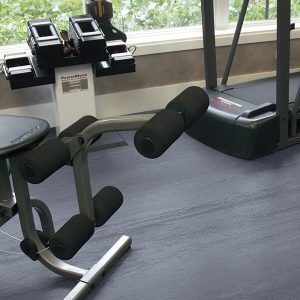 Rubber tiles or rolls are an ideal choice for exercise room flooring for numerous reasons. The resiliency of rubber flooring is a major draw. Exercise rooms must withstand dropped free weights, bulky treadmills, or other workout equipment and heavy foot traffic.
Rubber is manufactured to stand up to various abuses in an exercise room. As a durable material, rubber endures. Even if workout enthusiasts exercise only a few times per week, the floor will undergo significant wear and tear. Rubber rolls or tiles are built to resist the rigors of workouts.
Protects Equipment
The best floor will also protect the exercise room equipment long after the newness of the workout machines fades. Exercise gear undergoes scratches and nicks; some equipment is thrown. A rubber floor will mitigate the wear and tear that accompanies strenuous workouts.
Promotes Safety
Safety is a prime concern in exercise rooms. Individuals who lift or pull heavy weights must have ample traction below their feet for obvious safety reasons. A rubber floor offers excellent traction, making it a suitable flooring choice for a functional exercise room.
Similar to individuals needing traction, workout equipment must stay in place. A rubber floor ensures that exercise machines, such as a treadmill, power rack or bench, will remain in their original locations during use—which promotes safety and prevents having to reposition the equipment.
Rubber rolls are seamless, which means those who use the exercise room will unlikely trip or stumble. Uneven footing caused by inappropriate exercise room flooring is a clear danger. Rubber rolls provide a smooth surface upon which athletes and workout enthusiasts can safely walk across.
Absorbs Shocks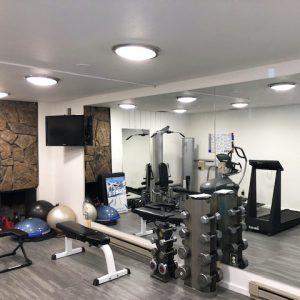 As a material with a high rate of shock absorbency, rubber floors are the go-to solution for exercise room flooring. Those using an exercise room will drop kettlebells and weights. The equipment should not bounce back up. The rubber floor will absorb the shock and keep the weights in place.
The best exercise room floor will protect the joints of those who work out in the space. Rubber floors offer a soft cushion that facilitates impact absorption. As a result of this desirable feature, cushiony rubber rolls reduce the risk of leg injuries and fatigue.
Protects Subfloor
Working out in an exercise room means that heavy weight equipment will be dropped frequently. The floor will be subject to cracks, dents, and scratches. A rubber floor protects the subfloor underneath it, especially when the rubber is sufficiently thick.
Buffers Noise
The noisy clangs coming out of an exercise room in which weights are lifted and dropped can be disruptive. Rubber floors, however, buffer the noise. Noise reduction may be an important consideration for some exercise rooms, depending on location (such as a garage or basement).
How are rubber tiles and rolls installed?
Rubber tiles featuring interlocking edges are among the easiest to install. Interlocking rubber tiles are available in three styles, which differ based on how many sides interlock: center, border, and corner. Installation is akin to assembling a giant jigsaw puzzle.
Prior to installing a rubber roll, ensure the subfloor is free of dirt and grease. Roll out the rubber, cutting away the excess with a utility knife. Once the dimensions are established, apply double-sided tape or glue to the perimeters of the rubber roll and secure it to the floor.
How easily is rubber flooring maintained?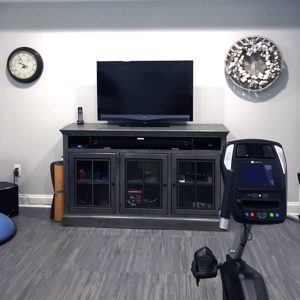 Rubber floors in exercise rooms require minimum upkeep. Generally, the rubber flooring is kept clean by sweeping or vacuuming. A damp mop may be used as needed. Mopping is appropriate when abundant sweat and moisture are present, such as after intense workouts.
Heavy-duty cleaning is necessary in instances when sweeping and vacuuming do not suffice. A deep clean of the rubber floors may be achieved with a neutral pH cleanser, which does not leave a film on the floor. The pH cleansers are easy to use with a mop, sponge, or auto-scrubber.
A rubber floor that is well-maintained will endure for 20 years or more. Lacking seams, rolled rubber is best suited for damp locations. Rubber rolls are also stain, mold, and mildew resistant—which are key benefits in exercise environments where ample sweat and moisture are produced.
Rubber rolls or tiles in the exercise room are clear winners. Not only does rubber flooring provide all the aforementioned benefits, but the material is also environmentally friendly. Rubber floors are manufactured out of recycled material, such as reground tires, which keeps the rubber out of landfills.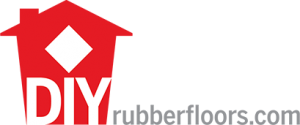 When you are in the market for the best flooring options for your exercise room, consider rubber tiles or rolls from DIY Rubber Floors. Our rubber flooring materials are highly versatile, being well-suited for a range of spaces where durable cushioning underfoot is important.
We are committed to giving our customers environmentally friendly choices. DIY Rubber Floors offers recycled rubber interlock tiles as well as recycled rubber rolls. Our premium recycled rubber interlock tile is also a popular choice for those seeking a sleek, seamless, and professional aesthetic.
Rubber tiles from DIY Rubber Floors feature hypoallergenic qualities. Exercise enthusiasts with allergies can safely and comfortably work out on our rubber floors. Our rubber flooring products are also mold resistant and bacteriostatic, which creates a safe workout environment when moisture is present.
Whether your exercise room is primarily intended for high impact cardiovascular workouts or strength training, DIY Rubber Floors will deliver a rubber flooring option to fully meet your needs. Request a free sample or a quote online or call us at our Lindenhurst, Illinois, location.