The empty space in the basement or spare room can be transformed into a home gym. Homeowners can exercise according to their own schedule, rather than show up at the gym during limited hours. Many elements, like the gym floor, are important in designing a functional home gym.
Working out at home is ideal for those who want to stay physically fit. Several benefits come with a home gym. Access to fitness equipment in the home environment is motivating. Jumping on the treadmill can be done without having to wait for an available one at the gym.
The temperature in a home gym can be easily adjusted with a tweak of the thermostat. Set the perfect mood in the home gym by playing upbeat or soothing music. Workouts in a home gym are private, so there's no need to worry about feeling judged.
Both older adults and young kids need exercise. A home gym allows the entire family to join in on the physical fitness routines. Personal safety is at a maximum in a home gym, where snowy or rainy commutes and walking in dark parking lots become unnecessary.
A workout may need to be postponed if the gym is closed due to Covid-19; but in a home gym, homeowners have the liberty to safely work up a sweat at any time. Exercise equipment in a home gym is also free from the coronavirus and other transmittable viruses.
While all of the abovementioned features of a home gym are motivating, the best part is that a homeowner has endless possibilities when designing a home gym. From rowers to ellipticals, the homeowner can choose the equipment. He can also choose the ideal type of gym flooring.
The floor is one of the most important pieces in a home gym. Several options are available. But the right flooring will protect the home gym user's joints no matter how strenuous the exercise routines are expected to be. Also critical is that the flooring safeguards the subfloor underneath.
Four flooring materials are available to homeowners with a goal to create the perfect home gym: rubber, foam, carpet, and vinyl. Each has a unique benefit, and the homeowner should compare cost, durability, installation, and the floor's shock absorption properties.
Rubber Flooring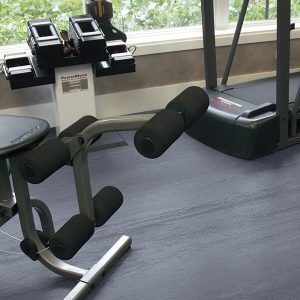 Fitness facilities opt for rubber flooring. Home gym users also have the option to cover the floor in rubber tiles, rolls or mats. Rubber floors are available in a range of thicknesses from ¼ to ¾ inch. Thicker floors are best suited when heavy dumbbells are dropped, for instance.
When covering a small area, choose rubber tiles for their durability and portability. Or opt for rubber rolls when anticipating high-impact, plyometric activities. Homeowners are even presented with a variety of colors and color fleck options for their rubber floors.
Installing the heavy rubber flooring will require the help of friends. Once this bulky flooring is in place, be aware that temperature insulation is not available (rubber will feel cold when laid on cold basement floors). Plus, the smell of rubber can be a turnoff for some gym users.
Recycled Rubber Flooring
Recycled rubber flooring is the least expensive option of all. Recycled rubber floors are available as interlocking tiles that are a breeze to install. For light workout and bodyweight exercises, recycled rubber tiles are the optimal solution. These tiles stand up to heavy weights, too.
With plenty of cushioning for stretching and sit-ups and being safe for children, recycled rubber floors are ideal.
Carpet Tiles
Similar to foam tiles are interlocking carpet tiles. All-purpose, easily maintained and comfortable, carpet tile gym floors are an excellent choice for home gyms. The durability of carpet tiles makes it a go-to option, especially considering this flooring material can last for years.
The downside to carpet tiles is that they fail to provide adequate protection to the subflooring. Unlike rubber floors, carpet tiles require a layer of underlayment to prevent stress to the subfloors. Plus, carpet tiles must be professionally cleaned regularly since they retain moisture.
Vinyl Tiles
Garage home gyms are the most suitable place for soft PVC vinyl tiles. Gym users who frequently work out with heavy weights will see the enormous benefits of these ultra-durable tiles, which were originally designed to withstand the weight of vehicles.
Flexible, durable, and easy to clean, vinyl tiles are a popular choice. However, its drawback is that it features less shock-absorbent properties than its rubber or foam flooring counterparts. Vinyl floors are also among the priciest options available on the gym flooring market.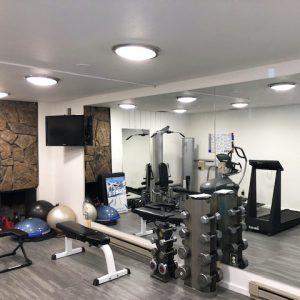 When you aim for your gym to be designed with premium flooring materials, choose DIY Rubber Floors. Weight rooms and fitness centers are high impact areas, and your flooring should satisfy the demands for safety, durability, performance and aesthetics. At DIY Rubber Floors, we pride ourselves on meeting and exceeding the industry recognized benchmarks for state-of-the-art gym flooring. Our weight room floors feature antibacterial properties. The nonporous nature of our floors minimizes the risk for bacterial infections, such as MRSA, as well as mold. By choosing our quality flooring, you will ensure a safe workout environment.