Facilitate exercise from the comfort of home with online workout classes. Homeowners who are preparing a home gym are encouraged to make the right choice about flooring materials. Rubber flooring, like rubber tiles, is an ideal flooring option to get moving via virtual fitness classes.
The worldwide pandemic has forced many gym enthusiasts to start exercising from home. In comparison to a public gym, a home environment is safer from potential exposure to SARS-CoV-2, the virus that causes Covid-19, and a host of other germs and bacteria.
Although gyms have reopened after closures related to Covid-19, fitness buffs may not be ready to get back to the gym. Working out via online classes has given individuals invaluable benefits and, consequently, the desire to continue online workout classes in the post-pandemic era.
Working out with virtual fitness classes comes with a multitude of benefits, such as having access to expert instruction and gaining the motivation that comes from working out in a group setting. Having the flexibility to work out at any time is also an advantage of online workout classes.
Virtual fitness classes give individuals the chance to connect with themselves by releasing pent up anger, anxiety, and stress in the safety of home. People enrolled in online workout classes are also able to build their confidence within the structure of a group fitness class.
Given all these advantages of working out with the support of an online class, exercise enthusiasts will be ready to break a sweat. In order to successfully and safely utilize a home gym, individuals should carefully choose the best flooring option for their home gym environment.
Versatility
The most popular and highly recommend flooring option is rubber flooring. Rubber is a durable and versatile flooring material that adds comfort and safety to an online workout class. Rubber tiles, for instance, are extremely resilient to a range of either intense or low-impact workouts.
Easy Installation
Even with limited experience installing floors, homeowners who are intent on creating the optimal home gym environment will easily be able to install rubber tiles. These tiles feature interlocking edges that make installation a simple task. Expect a quick DIY installation when opting for rubber tiles.
Shock Absorption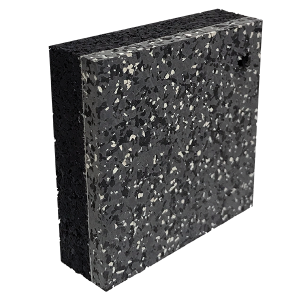 Online workout classes vary. Some workout enthusiasts gravitate toward weightlifting classes. In these cases, rubber tiles add extra cushion to the floor. With the availability of multiple thicknesses, rubber tiles are able to withstand even 100-pound dumbbells dropped onto the floor.
Participating in a virtual fitness class on a cement floor, such as one in a garage, can lead to discomfort and pain in the knees, hips, and ankles. Laying rubber mats or tiles on the floor, however, provides adequate shock absorption and cushioning to motivate fitness buffs to safely continue.
Rubber tiles contribute to safer workout sessions when working out online with weights. Likewise, cardio workouts that are done in a home environment require sufficient cushioning. Add rubber tiles to the floor, and high intensity interval training workouts can be safely performed.
Home gym users who are committed to online plyometric exercises benefit from rubber floors as equally as those who perform weight training and cardio workouts. Rubber floors offer athletes who jump on boxes, for instance, excellent rebound and give on landings.
Attractiveness
Rubber rolls, while equally beneficial as rubber tiles, come with visually attractive fleck options. Rather than lay basic black rubber rolls, home gym users have an aesthetically pleasing option: rubber flooring rolls that include color flecks against a solid black background.
Convenience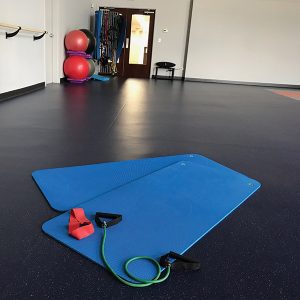 Rubber exercise mats are convenient since they offer portability in a home gym. Mats are versatile, providing sufficient coverage over small spaces. Home gym users may need cushioning only under a weightlifting station, treadmill, or floor space for ab workouts.
Available in a range of thicknesses, rubber mats are suitable for an assortment of virtual workout routines. Follow the instructor on ¼-inch mats and perform bodyweight exercises comfortably. Or, add a ¾-inch mat, which remains resilient even when performing Olympic weightlifting exercises.
Easy Maintenance
Support during an online workout class is essential for preserving safety and comfort. But rubber floors offer an added bonus: They are easy to maintain. A quick vacuum or mop will sufficiently clean. Plus, rubber tiles and mats feature antimicrobial properties, which prevent bacterial growth.
An additional benefit of rubber floors for virtual fitness sessions is water-resistance. Home gym users can break a sweat without worrying about sustaining damage from moisture. Rubber floors also proficiently absorb sound; fitness enthusiasts can drop weights without disturbing the neighbors.
Rubber flooring options come with few drawbacks. Opting for heavy rubber rolls means that the homeowner must enlist help from friends for installation. Although rubber floors provide the best value, some types tend to be more expensive. New rubber floors give off a temporary rubber smell, too.
DIY Rubber Floors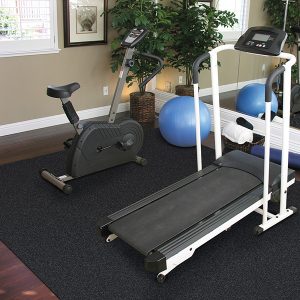 Just as online workout classes offer a range of exercise options, rubber floors meet the needs of many workout enthusiasts. When you are ready to install the best home gym floor, turn to DIY Rubber Floors for premium rubber flooring options. You'll improve your home gym setup with rubber floors.
Our commercial grade exercise mats, for instance, are designed for use in sports facilities. You can rely on the product to provide maximum protection and comfort. The lightweight mat features ¼-inch thickness, while our pro weight mat provides a cushiony ½-inch thickness.
Rubber interlocking tiles from DIY Rubber Floors are a practical and wise investment for online workout enthusiasts. Our product delivers excellent shock absorption. Those involved in high performance training will experience an enjoyable, comfortable workout on our rubber interlocking tiles.
Take our word that DIY Rubber Floors offers home gym users the best in rubber floors. You can always request a sample to experience firsthand the benefits of choosing our products. Obtain a quote online or call us for help in choosing an optimal rubber floor.