Building the perfect home gym is a priority for health-conscious homeowners. While outfitting the home gym with a range of fitness equipment is a key component, equally essential is the choice of flooring. The right flooring makes a powerful impact on workouts. Here are the best flooring options.
What are the benefits of the right type of home gym floor?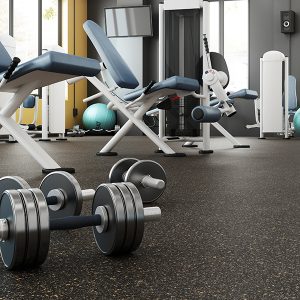 The right type of gym floor elevates a home gym workout. Rather than using a yoga mat or household carpeting, serious home gym users gravitate toward fitness-friendly flooring—surfaces that protect the joints and prevent major injuries from accidental slips and falls.
During workouts, the ideal home gym floor increases stability, intensifies plyometric power and decreases bodily impact. The home gym floor is likewise protected. Choose home gym floors that are built to withstand various workouts and the equipment placed on the surfaces.
Diverse workouts require corresponding gym flooring. Gym users who predominantly lift heavy weights should consider the impact of heavy equipment and dropping dumbbells on the floors. Cardio and yoga enthusiasts require cushioning underfoot and sufficient bodily support throughout each workout.
What are basic home gym floor options?
A maintenance-free gym floor may be found by choosing a minimalistic option, like concrete. Few benefits come with this choice. Expensive wood floors may look stylish, but are slippery when wet. Vinyl floors are suitable for garage gyms, but provide inadequate impact absorption.
Carpeting is cost-effective and comfortable; however, odors and dirt frequently build up. Plus, like vinyl, carpet floors provide poor impact absorption. Gym users are limited to yoga or Pilates when they opt for foam tiles, since the foam will not withstand bulky weight equipment.
What makes rubber floors the best choice for home gyms?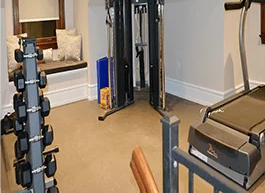 The aforementioned options fail to compare to the countless benefits of rubber flooring. The majority of commercial and home gyms feature rubber floors due to their versatility and easy installation. Durable rubber floors are considered to be the leading choice for home gym flooring.
Rubber floors are available in various thicknesses to suit a range of workouts. Individual rubber tiles or mats will securely fit into both small and large home gym spaces. Gym users who are particular about visual aesthetics will be pleased with the availability of different colors and color fleck options.
Provides Comfort
As a naturally shock absorbent material, rubber is comfortable underfoot. With the perfect blend of elasticity and rigidity, rubber floors reduce the impact on joints, bones and muscles. Cardio, yoga and Pilates enthusiasts will find rubber flooring's elasticity to be extremely beneficial.
Protects the Subfloor
Working out with heavy weights in a home gym requires adequate floor protection, and rubber floors provide this essential benefit. The elastic yet rigid rubber surface prevents dents and scuffs that could otherwise result when dropping dumbbells. Rubber floors also prevent damage to workout equipment.
Reduces Noise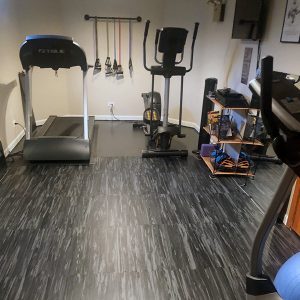 Optimum flooring reduces the sound of impact. Rubber is shock absorbent and dampens the clatter of weights by absorbing even minor sound-producing vibrations. As a result, family and neighbors are less likely to be disturbed. When utilizing a home gym, noise reduction should be a priority.
Offers Durability
Rubber materials are durable and designed to withstand almost any type of workout, from aerobic activity to weight lifting. Rubber features high tensile strength. This means the structure of the floor will remain undamaged, and instead will resiliently spring back.
Requires Little Maintenance
As nonporous material, rubber is as easy to clean as hardwood or tile. Moisture and dirt stay on the surface of rubber flooring, making it simple to whisk away the debris with a sweep and wipe. Rubber floors are also water-resistant. Hose down rubber tiles outside for a thorough clean.
Offers DIY Installation
Installing the rubber floors requires minimal effort. Interlocking rubber tiles are among the easiest to install. Homeowners simply join the interlocking edges, similar to putting together a giant, life-size puzzle. Installing rubber floor tiles is a DIY project that can be completed over a weekend.
Rubber is a home gym user's most preferred flooring material of choice. Available as interlocking tiles, rolls or mats, rubber floors are ideal for home gyms of varying sizes. A rubber mat, for instance, can be placed under a treadmill or weightlifting station with ease.
While some rubber flooring options may come with a higher price tag than other gym floor materials, the value rubber floors provide is unmatched. Turf flooring is comparable, however, and equally recommended for multipurpose use, including dragging and pushing sleds.
What makes artificial turf a comparable option?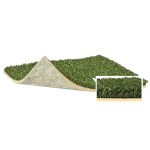 Like rubber flooring, turf floors provide desirable qualities, such as noise reduction, sufficient traction and excellent impact absorption. High quality turf floors are pricey, however, and are best suited for large workout spaces in order to fully utilize. The best flooring choice is between rubber and turf.
Whether you decide to equip your home gym with versatile rubber flooring or multifunctional artificial turf, turn to DIYRubberFloors for premium flooring options. We are a recognizable, national leader in gym flooring. Our products exceed the industry benchmarks for performance, safety and durability.
You deserve a quality gym floor that promotes safety and encourages peak performance. Choose DIYRubberFloors for all your gym flooring needs. Contact one of our friendly representatives to upgrade your gym floor with premium rubber floors or artificial turf and see the winning results!