High impact flooring is necessary to promote safety in sports facilities where high impact activities are performed. Athletes who practice and compete on high impact flooring decrease their risk for injury. Answers to common questions about high impact rubber flooring can aid in decision-making.
What are high impact sports?
Sports in which athletes put strain on their weight bearing joints, like the hips, knees, and ankles, are considered high impact activities. Running, for instance, places enormous stress on the feet, which absorb a force that medical experts claim is three times that of body weight.
The feet and ankles are home to various structures, like ligaments, bone, and tissue. Over time, high impact sports, including soccer, tennis, hockey, basketball, and football, can cause injury to the feet and ankles. Long-distance running, too, can wear down joints and increase the risk for injury.
How does high impact flooring reduce the risk of injury?
Designed to decrease the stress on an athlete's knees, back and hips, any of three types of high impact flooring are considered optimal. First, high impact options manufactured with recycled, low-density rubber provide extra cushion and shock absorption to protect athletes' joints.
Second, high impact floors built with a foam underlayment provide additional support and shock absorption for players. This option is stronger than low-density rubber and includes a rubber top layer. A third high impact flooring option is even more durable than the two mentioned above.
This third type of high impact flooring is known as a shock absorbent waffle backing floor. The flooring features multi-nib backing with tiny air pockets to promote shock absorption. It's ultra-durable and ideal for high-impact weight lifting (where weights are dropped) in combination with plyometric exercises.
When choosing a high impact floor, facility managers can opt for rubber or foam and pick either rolls, tiles, or mats. The important factor when deciding upon a particular rubber flooring for use in sports facilities is that it should be specifically rated for high impact use.
What are the advantages of high impact rubber tiles?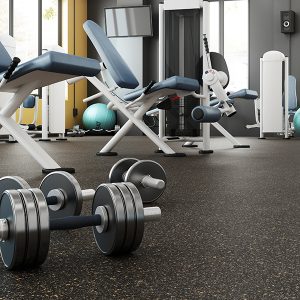 As the most popular choice for home gyms, high impact rubber tiles have numerous benefits. Firstly, rubber tiles offer maximum shock absorbency. High impact rubber tile flooring provides ultra-durability. The interlocking tiles are easy to install and may be assembled like a puzzle piece.
The high impact rubber tiles are lightweight, being far easier to move than rubber rolls. Cleaning is facilitated with simple soap and water or a vacuum. The product is anti-microbial and water resistant, so gym users can sweat without concerns of bacterial and mold growth.
When used as flooring in schools, high impact rubber tiles are versatile. The design options are endless, since the tiles are available in a variety of colors, sizes, and thickness. Facility managers can select tiles that represent the school colors and assemble them in unique patterns along the gym floor.
What are the drawbacks of high impact rubber tiles?
As mentioned, high impact rubber tiles require no special skill to install. However, covering a large gym floor with the tiles is especially time consuming. In comparison to rolled rubber flooring, the tiles fail to be seamless. Finally, the rubber tiles are pricier than their rolled counterparts.
What are high impact rubber tile options?
Tile thickness options range from 6mm to 3/4 inch. The thinnest tiles, at 6mm, still serve to protect athletes' joints amidst the toughest workouts. The 3/4 inch soft rubber tile is less ideal for weight lifters and more suitable for plyometric exercises.
What are the high impact rubber roll options?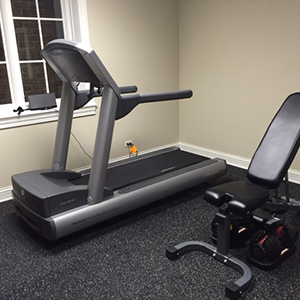 Premium options include rolls that resemble a wood surface. Impact rolls are ideal for both weightlifting and plyometric activities. Sound absorption capabilities are found in 15mm impact rolls. Activities, like jump rope, can be safely done on 8mm impact rolls.
High impact flooring is versatile, meaning both the tiles or rolls will absorb the shocks from not only bodyweight but also Olympic and power lifting. Depending on the specific product and manufacturer's instructions, heavy equipment can be placed on top of the high impact flooring.
Weight rooms are areas where high impact flooring is necessary to protect athletes' joints. When you are looking for quality high impact flooring, turn to DIYRubberFloors. We are a nationwide leader in gym flooring. Find world-class rubber sport flooring, including mats, rolls or tiles, at DIYRubberFloors.com.