At the height of the coronavirus pandemic, gyms were forced to shut down. Fitness buffs intent on staying fit had to find a new way to work out. The home gym boom took hold. Now, in the post-Covid era, the home gym is still the ideal place to exercise.
Even before the Covid-19 pandemic, experts in the fitness industry saw at-home fitness trends emerging. Once the virus hit, however, the trend skyrocketed. People discovered they were satisfied with working out at home. Exercise enthusiasts found ways to modify their home for workouts.
Based on studies conducted in industrialized countries, the majority of people who tried working out at home during the Covid-19 pandemic preferred it. Millennials were one particular age demographic where almost all of those who switched to at-home workouts wanted to continue them.
What factors drive at-home workouts post Covid?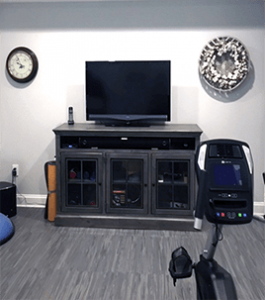 Individuals have more leisure time to work out at home in the post-Covid world. Remote work amongst professionals has given people open mornings or afternoons to exercise in the comfort of home; commuting no longer drains people of their time and energy each workday.
Considering that companies in the US are incorporating flexible at-home work, people save on commuting costs. The expenses normally spent on a daily commute can be reallocated to building the home gym. More time and extra spending money mean the home gym is here to stay.
Plus, the introduction of online tools gives workout buffs the opportunities to livestream classes into the home. YouTube, Zoom, and Instagram build dedicated virtual fitness communities. Home gym enthusiasts utilize these virtual tools to support their daily home workout routines.
How does technology enhance the home gym?
Post Covid, people are looking for ways to transform their strictly living space into a combined living, working and leisure space. The home gym is a big part of that transformation. Interactive fitness devices that hang on the wall, for instance, are gaining in popularity with home gym buffs.
Virtual fitness platforms are also taking off. Entire rooms can be turned into dynamic displays that reach from the ceiling to the floor. When workout enthusiasts pedal their exercise bikes faster up a hill, for example, the display changes to keep up with the increase in speed.
These game-changing virtual fitness platforms transport home gym users to anywhere in the world. Fitness buffs will find themselves at real-world places, like the Tokyo Olympics rowing course, if desired. Alternately, individuals can simply connect to personal fitness coaches wherever they happen to be.
Even more attractive is that an immersive home gym space can be altered to suit a variegated exercise schedule. Mornings may be set aside for mindful yoga practices. The exact space is later set up with an ergometer, allowing the home gym user to row at the Tokyo Olympics.
An immersive home gym, complete with a full field of view, offers the workout enthusiast complete engagement with the environment. This immediate connection with meaningful surroundings is among the strongest advantages of building and using a virtual, immersive home gym in the post-Covid era.
How do rubber floors benefit the home gym?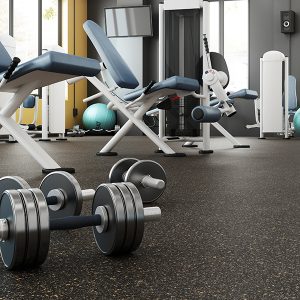 While developing technology is important to the home gym, some elements of the space remain unchanged. Carpeting with pads supported gym equipment in years past. In post-Covid times, however, rubber floors are increasingly being utilized as a durable flooring material.
When people exercise at home, the floors must absorb sound. Weights will be dropped, and loud music will be played, as individuals perform exercise routines. Rather than disturb others in the household, or the neighbors, home gym users are advised to install sound-absorbing rubber floors.
Those who had used fitness facilities prior to the Covid-19 pandemic will be familiar with stepping on the rubber floors laid underneath workout equipment. Commercial products, such as high-quality rubber flooring, are now available to residential consumers, as well as retail customers.
Home gym users will find they have many flooring choices. However, rubber floors are popular for a reason. Rubber floors are versatile, durable and, most importantly, protect the subfloor underneath. The last things homeowners need are dents in the subfloor resulting from dropped weights.
Rubber flooring's versatility is a major draw, especially since home gyms vary in size and use. Rubber floors are available as mats, rolls, or interlocking tiles. Some home gyms fitted with a stationary bike and treadmill require two small rubber mats underneath the equipment.
Rubber interlocking tiles are suitable for covering the floor of an entire room. Being affordable and quick to install as a DIY project, rubber tiles are the most popular type of home gym flooring material on the market today. The tiles are also available in a wide range of thicknesses.
At-home workouts are taking over the fitness industry in the post-Covid era. Advancements in technology and new online tools are constantly being developed. One thing remains constant, home gym users will always find a range of premium rubber flooring from DIY Rubber Floors.
Fitness buffs can browse our assortment of commercial grade exercise mats. Our recycled rubber rolls are affordably priced and cover large flooring areas. Rubber rolls provide a seamless appearance, which will enhance the look of your home gym. High-impact rubber rolls also protect joints.
DIY Rubber Floors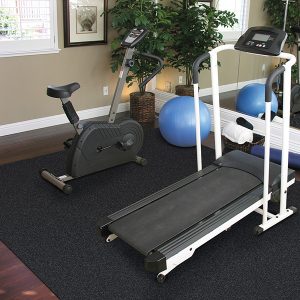 DIY Rubber Floors offers a wide selection of recycled rubber interlocking tiles and virgin rubber tiles. The rubber tiles can be easily interlocked, which facilitates a quick installation. They are also easy to clean and maintain, requiring vacuuming or a damp mop, when necessary.
The shock absorption and noise-reduction qualities of rubber floors from DIY Rubber Floors will keep you on friendly terms with the neighbors. Plus, you can be assured of the rubber flooring's durability—you'll likely not need to replace the floors for 10 years.
Whether you need to cover a large workout area or a small space underneath a single piece of equipment, choose DIY Rubber Floors. We offer a gym flooring sample so that you can experience our high-quality floors firsthand. Call our Lindenhurst, Illinois, location for a quote on rubber floors.